Love in the Digital Age EP available now!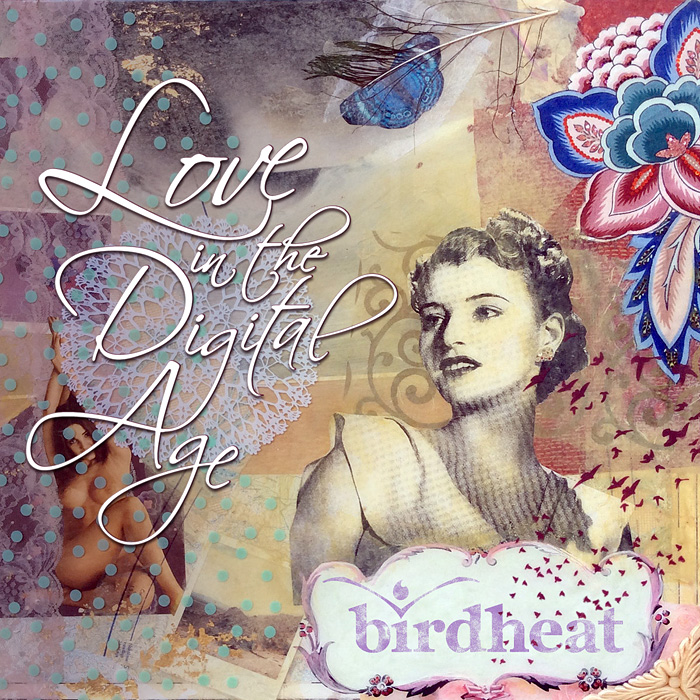 Laurie Anne Fuhr – vocals, bass, and rhythm guitar
James Dangerous – guitar
Joel Nye – drums
Chris Dadge – drums (Already Highway)
Todd Maduke – mandolin
Paul Hamilton 'The Deuce' – harmonica
Aleksandra Danicic – violin
Lorrie Matheson – producer / engineer, Arch Audio (Calgary)
Kenzie Housego – cover artist, mixed-media collage entitled Polka Dots and Debutants.
The lyrics of Strindberg's Requiem are lines from The Semiconducting Dictionary (Our Strindberg) by Natalee Caple (ecw press, 2010). Used with permission of the author and publisher.
---
music bio
Laurie plays solo, and as a duo with Craig Galambos called Bluebird Telegraph, and as a band under the name birdheat. Love in the Digital Age, her first birdheat EP available exclusively on bandcamp, produced by Lorrie Matheson, was released promotionally in 2017 to a selection of campus radio stations, hitting the charts of several of them. Two of her original songs were in the semi-finals of the Calgary Folk Music Festival in 2010 and 2011, and another was a semi-finalist in the South Country Fair Songwriting Contest, 2015. For two years, she ran the Acoustic Open Mic at Cafe Blanca and hosted Songwriting Saturdays. She has been featured at The Listening Room, the Home Series at Good Earth on 11th St SW, Soul in a Bowl at Cornerstone Music Cafe, the Music Mile official launch at Gravity Cafe, and many more events.
The band she plays upright bass and sings backups in, also with Craig Galambos on lead guitar, is Total Gadjos, the seven-piece Calgary-based Eastern-European folk / post-punk band (other members are Lonnie James – drums, Eugene Kirton – sax, Joseph Fernando – accordion, Colleen Buckley – trumpet) headed by Pet'o Joch. Laurie also plays and sings with folk singer-songwriter Joanna Drummond.
Other acts she has has the pleasure of playing with include Tom Phillips, Nico Brennan, Trevor Alguire, Yves & The Talent, Shona Rae & The VooDoo Hand, The Nova Scotiables, Prairie's Edge, Mercury Audio, Night Committee, Pine Tarts, lonely hunters, and more.